Our massive water wheel dates back to 1738 – over 200 years old!
We believe it is the tallest in Ireland being turned by water and a major Northern Ireland heritage asset, preserved for generations to come.
It originates from Mill Town, in the townland of Shane's Castle and was a gift from Lord O'Neill.

The mill caught fire in 1940 and the wheel was in poor condition, especially the lower half which was buried under decades of rubble. All the wood was rotten, the blacksmith parts were rusted away.

However, the central core and outer rim were made from cast iron, and in reasonable condition.

Digging the wheel out took a month of hard labour with a team of three using spades and heavy lifting and cutting equipment. The result was an uninspiring pile of twisted metal and charred wood
Raceview Mill had been powered by water wheels in the past and the restored wheel is placed where the original wheels were.
Each bucket is made from six pieces of wood, each a different size, fitting so well that they hold water. There are sixty buckets, held together with hundreds of bolts.
Each of the 24 spokes of the wheel is cut from the core of an electricity pole.
While it does not generate electricity, the massive wheel which weighs almost ten tons, is so finely balanced that it is turned by a small amount of recycled water. Oscar, the owners seven year old grandson can turn it. However, once turning, it will easily lift a man off the ground.
The wheel turns every day from 12 noon until 2pm and from 4pm until 6pm.
Thanks to good friends who helped make the restoration a reality including Ken Montgomery, Adrian Kirkpatrick, Mark Gardner, Davy Rodgers, James Davison, Cecil Warwick and the Friends of Raceview Mill Community Association.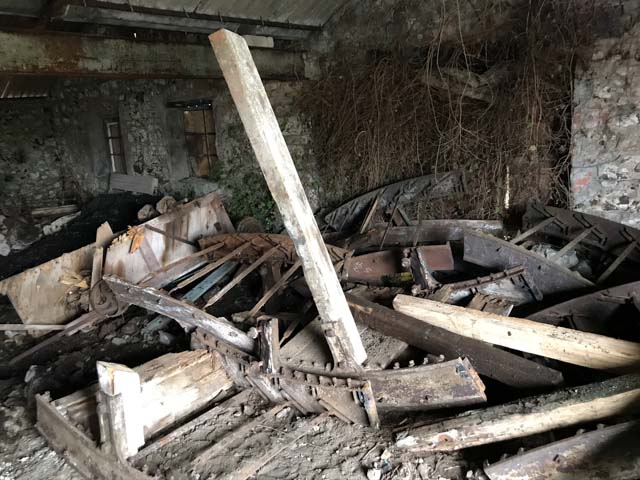 WATER WHEEL CEREMONY NOVEMBER 2023
Shane O'Neill from Shanes Castle speaking in Raceview Mill at the launch of the restored water wheel in November 2023.