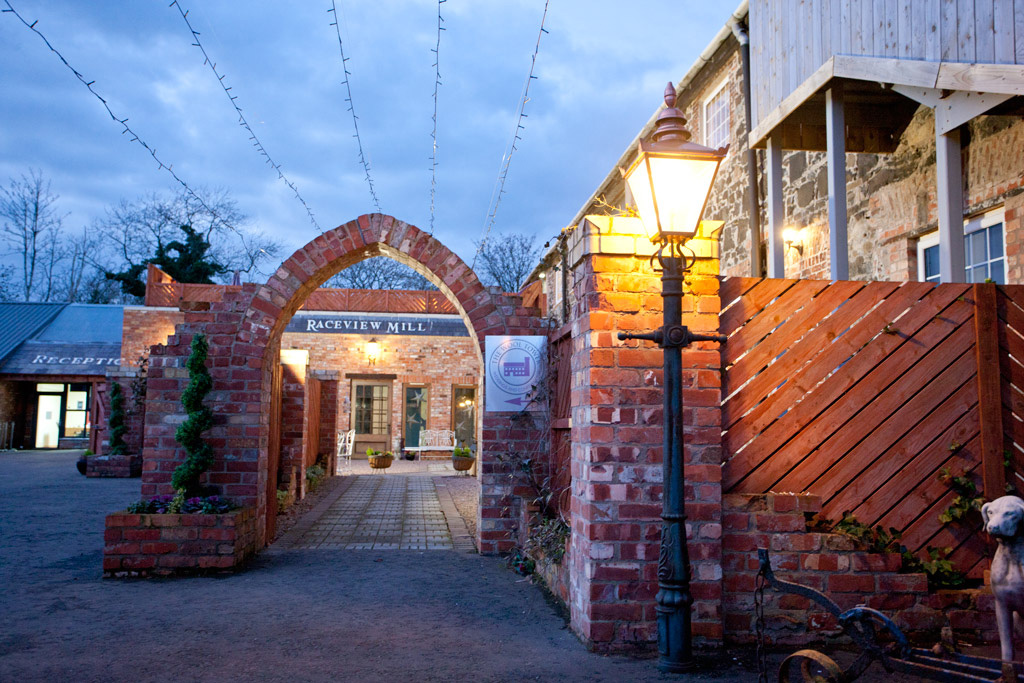 A unique heritage restoration project in Broughshane, the Garden Village of Ulster.
Raceview is a 200 year old woollen mill, set in 16 acres in Broughshane, the Garden Village of Ulster.
A local family purchased the mill in 2013 to stop it being demolished. 
Since then it has been restored and brought back into use with around 40 local businesses employing almost 150 people.
Raceview Mill is perfect for health and wellbeing and professional client based businesses whose clients will benefit from ample parking and a landscaped, peaceful ambience. 
Raceview Mill is not a shopping centre, but is a great place to visit, bring the dog, have some food, and enjoy the walks, starting with Raceview Back Avenuue. 
It is also home to the Wool Tower, Northern Ireland's first choice for prestigious events and couples looking for a unique 'exclusive use' venue filled with heritage and character, together with riverside bedroom suites.
Most old Mills have long since sold off all their surrounding land. 
In contrast, Raceview Mill sits in 16 acres with the Broughshane, one of the prettiest villages in Northern Ireland and winner of the Channel 4 "UK village of the Year".
 On third of our land is taken up by buildings and car parking.
The remainder is truly beautiful fields and wedding gardens. 
The site also benefits from almost a kilometer of the beautiful Braid River running through it. 
"Raceview Mill is a shiny example of hw we can protect our heritage and environment."
"I am truly inspired by the work and the investment by the McKeown family to preserve our local heritage and create jobs for local people"
"Roy and his family are to be commended for undertaking this huge project. Instead of demolishing 200 year old Buildings, they are being restored to provide homes for local businesses and start ups. The project will be a great asset to the village of Broughshane and surrounding area."
Raceview Mill is a family business through and through. When we purchased it in 2013, no-one, even in the village thought it could be saved. It faced demolition for new development. That, of course would have been the financially sensible option. 
No grants were available for the restoration and every penny invested had to be raised within the family – a major risk and a huge investment in the local community 
However, nine years on its a thriving heritage business park. My Daughter Dawn and her husband Matt run the hugely successful Wool Tower Wedding venue and we have plans for a new licenced restaurant later this year. 
It gives me great please to see three generations of the family working in the mill today, including my four grandchildren Bryn, Jack, Oscar and Benjamin. 
We look forward to welcoming you to the mill soon.    
Raceview Mill Heritage Business Park
200 years of Heritage in the Garden Village of Ulster.